The Mississippi Gulf Coast Corvette Club was organized in 1982 by a group of Corvette enthusiasts who enjoyed a variety of activities such as cook-outs, road rallies, road trips, parties, local "Cruise-ins" and Corvette shows.    New members are always welcome!  For more information click the "Join Us!" link above.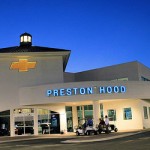 We greatly appreciate all the support that our club sponsor, Preston Hood Chevrolet, provides.  They provide exceptional service for our cars, our monthly meetings are held at their Cedar Lake Rd. location in Biloxi, they provide a location for the "Corvette Rendezvous" we hold during the week of Cruisin' and are major sponsors of our yearly car show, "Vettes by the Shore".  So, next time you are in need a of new vehicle (Corvette or not, new or used), please give them an opportunity to serve you.  You can find them at PrestonHood.net.
Vettes by the Shore 2016 was a Corvette Event where we raised money for our local Police Departments! Thank you everyone who helped us raise so much!!!